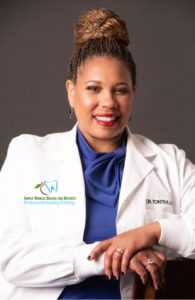 Dr. Tontra Lowe has spent her career placing an emphasis on how the mouth works with and affects the entire body. When it comes to serving her community, a passion instilled in her while at Howard University College of Dentistry and East Carolina Brody School of Medicine, Dr. Lowe goes beyond the tried and typical.
As a published author, public speaker and educator, Dr. Lowe has been able to share with thousands the benefits of medical billing in the dental office. As an Army Veteran, she understands the importance of proper training and getting it done right the first time.
Throughout her career, she has spent countless hours working with health insurance companies to help access medical benefits for treatments where there is an oral-systemic connection. Now, she wants to share the knowledge and experience she has to help others serve their patients better and grow their practice. She is a proud member of the American Medical Billing Association.